3 Martial Arts Videos of Training That Will Help You Crush It
by Urb@nComb@t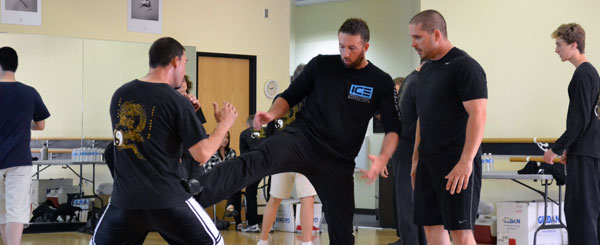 The Best of the Best Martial Arts Training Videos
Not all martial arts training videos are created equal. If you're going to invest your time and money on instructional videos, then you want the best of the best. ICE Urban Combat delivers not only the most efficient fighting system and destructive techniques, but also provides a creative and innovative learning environment designed to help the student absorb information at an accelerated pace.
ICE offers dozens of martial arts videos on various skills and techniques taught by industry-leading, expert instructors, Brandon and Jared Schmelter and their team of highly trained associates. Among these martial arts training videos are three highly popular and noteworthy lessons that stand out above the rest and can provide instantaneous results, changing your fighting approach forever.
1. Destructive Low-line Thrusting Kicks
Learn how to maximize the potential of your lower body in the lesson "Destructive Low-line Thrusting Kicks." In this martial arts training video, you'll be taught how to develop precise, powerful kicks that will crush your opponent with ease. Fancy? No. Effective? Absolutely. Your opponent can't fight very well if he is crumbling to the ground after your foot rearranges his legs and hips.
2. Hyper-acute Hand Sensitivity
Learn to "feel" instead of "think" your way through a fight in ICE Urban Combat's video "Hyper-acute Hand Sensitivity." Most martial arts styles lack the skill of body feel entirely. Science tells us that we can actually feel changes in movement and force from the opponent much more quickly than we can see them or even think about them.
How do we take advantage of this? It's simple: we train our bodies to be sensitive to changes in force. Through specific drills, our bodies learn to move in reaction to the opponent without our brains being involved at all. This awesome, detail-oriented lesson video goes in depth to teach you exactly how to take your martial arts training to a much higher level by simply becoming more sensitive!
3. The Straight Blast
Want a rapid and abrupt way to crush the attacker? Check out ICE's lesson video "The Straight Blast." Need we say more? Okay, we will anyway. Even the biggest and strongest opponents can be easily overwhelmed by well-executed, explosive, powerful straight blast punching.
Lots of people can throw useless punches in bunches. But in this video, you'll discover how to develop the critical elements that create violent punches: speed, precision, base, body alignment and power. This is as aggressive as it gets. Join the movement and discover much more about the advanced, cutting-edge fighting system that is ICE Urban Combat Martial Arts. Don't wait until it's too late.