Jared Schmelter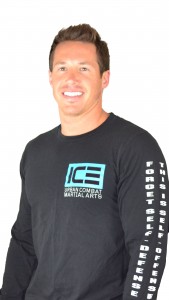 For Jared, ICE Urban Combat co-founder, law enforcement professional and veteran martial arts and street fighting expert, gaining control of a fight has nothing to do with magical tactics, secret moves or hidden knowledge. It's simply about science: using the body's mechanical advantages (the cornerstone of the ICE Urban Combat system) to overcome your opponent, regardless of your size or the skill of the attacker.
To prove it, this 5'7 police officer puts traditional martial arts and the formal police defensive tactics he's learned aside, and instead, relies on the ICE Urban Combat system in his personal life.
As an officer and former law enforcement defensive tactics instructor, Jared has the advantage of using law enforcement defensive tactics at work in the field — to test the best self-defense techniques around. As a result, Jared's gained a unique insight into what works and what doesn't on the street.
"I see, first-hand, the thousands of dollars wasted in law enforcement, teaching military hand-to-hand combat and defensive tactics that flat-out don't work. As a trainer and police officer, and in any street fight I've been in off the job, the only system of skills I trust with my life is ICE Urban Combat."
When he's not protecting our streets, Jared Schmelter works alongside his brother, Brandon, growing the family's Greater Los Angeles martial arts and urban combat teaching facility. There, he further develops the ICE Urban Combat system and teaches students from all walks of life how to effectively use the life-changing self-offense method he lives by.
Jared's martial arts background is extensive. He credits his father, Bobby D. Schmelter, for starting his martial arts journey at the age of four with Western Boxing. Jared attributes most of his Ju-jitsu, weapons, and Jeet Kune Do skills to his father, who is responsible for making him the practitioner and instructor he is today. His father molded Jared into an example for all students and gave him the coaching skills to empower others. Trained from an early age by Bruce Lee protégés Jerry Poteet and Pat Strong, as well as Master Truyen Vo (renowned master of Vovinam, commander of the South Vietnamese Special Forces, ex-POW and his father's mentor) Jared is an expert in his own right in the legendary arts of Jeet Kune Do and Aiki-Ju-Jitsu. This, along with study in all types of martial arts disciplines, has laid the foundation for the system he uses today. ICE is what he's most proud of — ICE, and his work with law enforcement.
"I train a lot of police officers, firefighters and military personnel. Some are friends and colleagues. After just a couple months, they easily learn the advantages of the ICE system over any other self-defense system they've learned, at work or on the side. And I see each of them successfully apply ICE in every kind of high-stress situation.
There's a huge misconception in the industry that there is no perfect self-defense system that works 100% of the time. I'm a small of stature police officer with first-hand knowledge that there is a perfect method. ICE works. Period."
CERTIFICATIONS AND RANKS
Official Certified Instructor, Jeet Kune Do
4th Degree Black Belt, Senior Instructor, American Kickboxing
3rd Degree Black Belt Aiki Ju Jitsu/li>
Certified Escrima Weapons Instructor
Certified Rape and Assault Prevention Instructor
Certified Defensive Tactics Instructor (DTAC)
Certified Law Enforcement Baton Instructor