Brandon Schmelter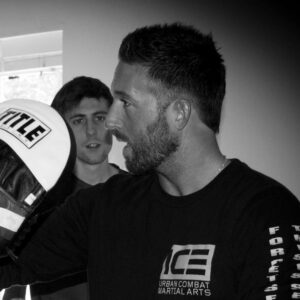 For the past 21 years, Brandon has been the face and the force behind the Schmelter's Greater Los Angeles ICE Urban Combat Martial Arts training facility. There, Brandon oversees facility operations including the ICE Urban Combat training programs he developed over the years with his brother Jared and the rest of the ICE team, assault prevention outreach training, and a rigorous ICE instructor certification program. "I teach people to change their approach to personal protection by thinking aggressively (offensively) rather than defensively. Eliminate passivity, negativity, doubt and hesitation. Attack the attacker. The hunter becomes the hunted. Then, everything changes. Our ICE Urban Combat Self OFFENSE fighting system compliments this mentality perfectly.
Most people don't even know the depths of their own potential. It's my job to help them maximize who they are and what they can do. Self-actualization."
It's what keeps Brandon motivated — his eager students from around the globe. As an industry-leading martial arts and street fighting expert, ICE founder and hands-on instructor, Brandon has given thousands of individuals from diverse backgrounds the self-offense skills and knowledge they need to take control in the streets and in their professional lives.
As a private trainer and consultant, Brandon has also had the privilege of working one-on-one with law enforcement professionals, celebrities and entertainment industry heavy weights seeking in-depth training for work and personal security.
This varied clientele, combined with years of training experience, has allowed Brandon to develop a customized approach to teaching that brings out each individual's personal best.
That said, Brandon believes there are no short cuts to success. His own intensive formal training and certification in multiple martial arts disciplines make this evident. From an early age, Brandon studied hard, first coached by his mentor and father, Bobby D. Schmelter. Starting Brandon at the age of 4, Bobby laid the groundwork in Western Boxing, Kickboxing, Japanese Ju Jitsu and Jeet Kune Do. Then later, Brandon trained for many years under Masters Jerry Poteet and Pat Strong (both Bruce Lee protégés), and Master Truyen Vo (renowned teacher of Vovinam, commander of the South Vietnamese Special Forces, ex-POW and his father's mentor).
It was these years of diligence and an unremitting passion for his craft that helped Brandon rise to the top of the industry and especially in the legendary arts of Jeet Kune Do and Aiki-Ju-Jitsu, the two disciplines he credits as the foundation for the ICE Urban Combat system. Put in the work and you'll reap the rewards, he says. "The minute we say 'I can't' is the very same minute it becomes true. We were made for greatness. Let's get there, together.
"The short of it is, I get to empower good people anywhere and everywhere with the physical and mental tools they need to destroy bad people who intend to do bad things to them. It doesn't get better than that."
CERTIFICATIONS AND RANKS
Official Certified Instructor, Jeet Kune Do
4th Degree Black Belt, American Kickboxing
2nd Degree Black Belt Aiki Ju Jitsu
Certified Escrima Weapons Instructor
Certified Rape and Assault Prevention Instructor
LANGUAGES
To contact Brandon directly, email him at brandon@fightwithice.com.
Follow Brandon on Facebook at www.facebook.com/BrandonSchmelter
Endorsements
"Brandon is an expert in his field of self-offense. I had the pleasure of training with Brandon for 2 years and learned an immense amount of skills from his program. Brandon has great leadership qualities combined with high integrity and focus and treats his training with a high level of professionalism. His ability to challenge his students to learn more each session and build upon this continual learning produced great results for me. I not only learned the physical attributes but also built my mental attributes during my training."
-Darren Siegrist (Retail Branch Sales Manager at EverBank)
---
"I have studied several forms of Martial Arts, but Brandon is by far the best instructor I have had. His knowledge and skill is well beyond his years. His teachings are both practical and proven. His motto, "If You're Defending You're Losing" could not be more true. If you are serious about martial arts or want to be, I highly recommend Brandon for your personal training needs."
-Brent Rice (Executive Director, National Accounts, Amgen, Inc.)
---
"It gives me great pleasure to vouch for Brandon, whom I consider a most talented martial artist and dedicated instructor to his students. For anyone wishing to learn about the real world of street combat, or get training in the traditional teachings of martial art, I full-heartedly and with pride recommend Brandon."
-Patrick Strong (Deep Level Training Systems, Bruce Lee protégé)
---
"Brandon's street martial arts training not only gives you the physical techniques to combat and neutralize an antagonist, but more importantly institutes a philosophy and mindset that is crucial to surviving and winning in an altercation. I have experienced, as a student, the superb mastery and skill at which Brandon instructs his specialized form of "self-offense" fighting. A fighting style which is practical to use, but no less lethal. I have benefited immensely from training with Brandon and I feel I have the confidence and fighting skills necessary to crush any opponent. Brandon's years of experience as a martial arts instructor will provide the requisite tools to control one's mind, body, and spirit that harmoniously acts with controlled and skillful aggression when the time comes, when the fight is on!"
-David Lievanos (Pilot, Aery Aviation)
---
"Brandon is very skilled in several martial arts disciplines that are uniquely effective for street combat. He is an excellent instructor because he has the ability to teach his skill sets to his students in an energetic and constructive way. I strongly recommend taking his classes if you are serious about learning the martial arts skills that can be applied very effectively in urban combat."
-Trung Bui (MD)
---
"I've been training with Brandon for the past 6 months or so. My skill set and confidence level with has improved dramatically once I started taking private training. Brandon has the unique ability to communicate exactly what we're trying to achieve in every training session and he always pushes me to do better, which I truly appreciate. Brandon is extremely gifted and highly skilled at his profession and has a fierce drive and determination that I have rarely seen in my 60 years on this planet. His attention to detail and technique is impeccable and if anything were to ever go down, Brandon is the man. He is a master at his craft and I highly recommend him to anyone who is considering or is already practicing Jeet Kune Do or any kind of street-oriented martial arts. He is second to none and I truly appreciate his time , patience and knowledge in helping grow in my skill set and in life."
-Jeff Moss (Director of Loan Originations, Bond Street Capital)
---
"I began taking the beginner adult course a few years ago. I found Brandon's teaching style to be patient and supportive. He's both humble and friendly while being very effective at making sure his students improve with every session!
-Tim Horita (MD)
---
"I began working with Brandon 3 years ago after being followed by two men one evening my senior year of college. I wanted to learn how to defend myself in a real-life situation similar to the one I experienced, as well as become more confident in my fighting abilities and learn how to fight in close contact situations. I lucked out by choosing to work with Brandon, seeing that he has been expertly trained by Bruce Lee protégés, Jerry Poteet and Pat Strong. But even more important then being trained well, Brandon, his Dad, Bob Schmelter, and brother Jared Schmelter, not only know how to fight well, they also know how to properly teach anyone willing to learn and work hard. I would leave each class feeling more confident and stronger than I ever had before, and can honestly say that I learned how to properly protect, carry myself, and become aware of my surroundings, especially when I was alone. I want others considering these classes or reading this post for the first time to understand his is NOT your run-of-the-mill self defense, martial arts or "karate" class… If you're serious about learning how to "street fight", or are serious about potentially save someone's life, then these classes and this program is for you. I owe Brandon and the Schmelter family a great deal since they have taught me realistic fighting skills and lessons that I otherwise wouldn't have been able to learn with anyone else… Skills that could some day save my life."
-Kristin Rose (Communications Analyst for Oracle Worldwide Alliances & Channels)
---
"I have trained with Brandon on several occasions. He is a terrific martial arts expert with the capacity to translate complex concepts into easily executable training exercises. I am a true novice in this field, but Brandon has given me a higher level of skill and confidence than I could ever expect. It is obvious that he has had decades of experience in Jeet Kune Do because he has such a innate understanding of the art."
-Ian Miller (Director of Marketing at BMLA: Landscape Architecture)
---
"I've been training with Brandon for 2 1/2 years now. He never taught me katas (forms or memorized movements). He taught me how to fight in the street. As my confidence has grown, my fear of fighting has diminished. I feel like I can relax knowing I've got this. Brandon is an amazing teacher and although I'm sure there are other great schools and teachers out there, he would be impossible to replace."
-Daniel Pendergast (Program Manager, KAR Global)
---
"Sifu Brandon is an awesome trainer, he trained me and my son for 6 years with excellent results. Brandon Schmelter is the real deal in the world of Martial Arts, a great guy, awesome family and easy to work with, other than the total mental and physical challenge he will put you through to grow. I highly recommend his services to anyone looking to excel in JKD and to get in shape. Prepare to be trained by the best!"
-Brady Schmidt (President at Secure Capital Solutions,Inc.)
---
"Best instructor in the biz! The term "skillsets" is no longer a fuzzy and abstract concept. Ruthlessly effective martial artistry conveyed clearly and concisely. Top notch!"
-Erik Wells (Life Coach, Motivational Speaker)
---
"I have known Brandon for about 17 years, him and his incredible family; he is an amazing human being and a great teacher. All three of my sons have benefited personally and physically, I have benefitted as well. Anyone that has met him will say the same. I'm very grateful to have met him."
-Carlos Rivera
---
"Brandon is a passionate professional. He infuses this energy into his students, with the result being they train, progress, and develop a love for what they are learning. The self-confidence and peace of mind they gain in knowing they are prepared for unwelcome threats is invaluable. I highly recommend training with Brandon."
-Dave Goethel (Branch Manager at Sierra Pacific Mortgage)
---
"Brandon Schmelter stands out in quality in all areas of professionalism, martial arts knowledge, awareness of skills that one would need for self-defense, and proficient training in Bruce Lee's method of martial arts. In describing Brandon's care, sincerity, and tenacity one can always rely on Brandon for strength, wisdom, and readiness for anything that life slings your way!"
-Marie Doettrel (Massage Technician at Healing Arts)
---
"Brandon is dedicated to transmitting his knowledge to every student. We trust the safety of our daughter and son to the training Brandon and the other instructors deliver every time… I can't think of a higher recommendation a parent can give."
-Mike Sapelli (Field Agent)
---
"I have studied various martial arts over the years but Brandon stands out. Not only is he a detail-oriented, results based instructor, but he is fantastic with the kids and is responsible for my 4 children (2 boys and 2 girls) being superb Jeet Kune Do students and practitioners."
-Matt Layden (Sr Network/Systems Engineer at AMGEN)
---
"Brandon is an expert exponent of his art and I recommend his training for anyone who wishes to learn. I have known Brandon for a few years now and it is always a pleasure interacting with him."
-Nitin Bhatnagar (IT Management consultant)