Learn Martial Arts Online at Home
by Urb@nComb@t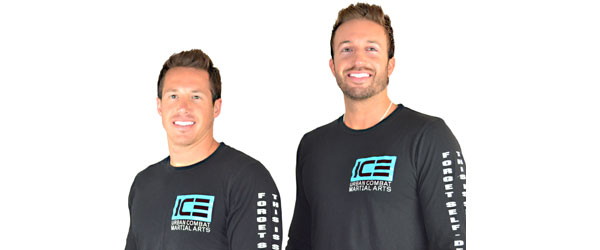 Our martial arts online classes and training
Want to learn martial arts but don't have much time to commit to it? Try martial arts online classes!
If you are one of the millions of people overrun by busy schedules with work, school, kids, families, etc., and you just simply don't have the time or money for yourself to join a martial arts training facility…then you are in luck. ICE Urban Combat Martial Arts found its roots in their one-of-a-kind martial arts school in Southern California. After several years of teaching success, ICE Urban Combat co-creators, Brandon and Jared Schmelter, decided it was time to deliver their cut-throat science of street fighting system to the world. Brandon and Jared know that the average person struggles to find time in the day just to sit down and relax for ten minutes, much less commit to hours of training at a martial arts school every week. That is why they streamlined their system into a state-of-the-art martial arts online training center.
People from all over the world now have the ability to learn this rare, hybrid blend of Jeet Kune Do and Aiki-Ju-Jitsu from the comfort of their own homes. Students can learn on their own time and at their own pace, progressing by a combination of their own efforts as well as coaching from expert ICE instructors. Each online training program is designed to allow the individual to do as much as he/she can do or as much as he/she wants to do. The ICE Urban Combat online school provides expert instruction through online streaming video lessons. The online membership provides weekly training routines for your convenience, as well as video feedback with the instructors to monitor your progress. The training programs are also jam packed with a technique tutorial, coaches' corner full of helpful video tips and drills, bonus lesson videos, a member forum to answer questions and coordinate with other students (even find local training partners), drills and exercises to master each lesson and much more.
The decision as to which martial arts training to take may be a tough one with all the fancy sales pitches out there. But, now ICE Urban Combat has made that decision easy. Not only are we the most practical, street-efficient system in the world, but we now have delivered our system right to your computer through our online classes and training center. The ICE Urban Combat system has been tried, tested, and proven through years of training, teaching, experimenting and street application. Brandon and Jared Schmelter each have over 25 years of experience and have been awarded the 2005 USA Martial Arts Hall of Fame Teaching Team of the Year. Begin your path to self-confidence and peace of mind, knowing you can protect yourself and the ones you love.
When you learn Martial Arts Online from ICE Urban Combat, you'll have the confidence that you can end a street fight in five seconds or less.