Self Defense Training
by Urb@nComb@t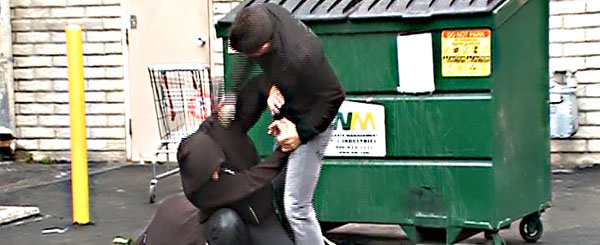 Most Devastating Self Defense Training
Take the lead in self defense training! Join a team that is ahead of the curve and is taking martial arts to a new level… a level no one has been to before. ICE Urban Combat Martial Arts delivers a system of fighting that is so innovative and complete, so violently destructive, yet so simplistic and efficient, that no other system of self defense can compare to it.
ICE Urban Combat creators, Brandon and Jared Schmelter, were not nearly satisfied with training in and teaching "one of the best martial arts." They needed the best. So, they spent years training, testing, experimenting and refining their system and their approach. This system of self defense training will provide any person, regardless of size, strength, or athleticism, with the skill set needed to prevail in any street altercation or physical attack. ICE Urban Combat uses a stream-lined blend of refined Aiki-Ju-Jitsu and the deadly science of Jeet Kune Do to deliver the most devastating, economical fighting system in the world. Brandon and Jared feel it is more important for people to be able to defend themselves with the least amount of effort and minimal possibility of harm to oneself, as opposed to exchanging "blow for blow," like so many other martial arts training programs tend to do. This is why they developed a system that can counter and destroy with efficiency any other martial arts system or style in the world.
The ICE Urban Combat training programs will teach you how to instantly gain the upper hand in any street altercation. They will instruct you how to develop striking so direct that it will shock even the most aggressive of attackers. You will learn how to fight in any and all positions, from your feet to the ground. ICE will show you how to develop explosive power and destructive speed with laser-like accuracy and precision.
We decided it wasn't enough just to teach people the most devastating self defense training system in the world. We at ICE Urban Combat wanted to go even further. We wanted to reach people across the globe… people who desire to empower themselves with the tools needed to swiftly take down any attacker in a dangerous street altercation. So, we decided to bring it directly to you within the convenience of your home, office, or school. Our training program provides an easy-to-learn student platform through streaming instructional web videos, downloadable training routines, a student blog, video feedback from instructors, a step-by-step photo technique tutorial, a coaches' corner and much more.
If you are one of the many people that have thought about taking a martial arts program, then look no further. Begin your self-defense training journey today and steer yourself to a path of self confidence, all from your own home! Join us today!
When you learn Self Defense Training from ICE Urban Combat, you'll have the confidence that you can end a street fight in five seconds or less.